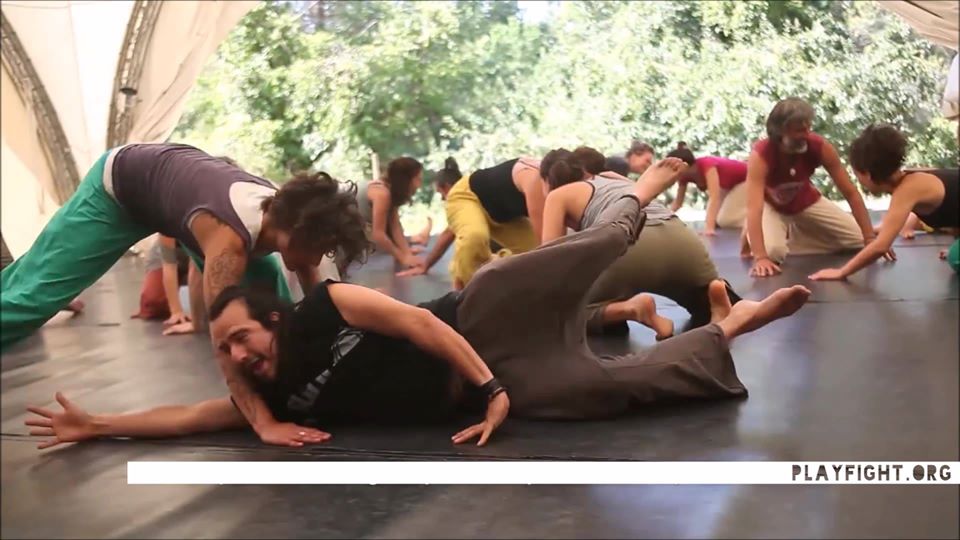 PLAYFIGHT IMMERSION
The Playfight Immersion is truly for everyone. This wonderful 4-day event offers you time to dive into your inner power and your capacity to be authentic in relationships with others. We will train in the practice our conscious warriors and have fun like children! Explore the therapeutic potential of Playfight. Rediscover yourself and regain consciousness through this unique lineage of bodywork, which we have embedded in us since our childhood, in our DNA and subconscious.
PLAYFIGHT Matteo Tangi Lineage
Playfight is so unique because it is so simple and connects us to our inner child. It is worth it, because it forces us to break immediate, without effort, in the first second the boundaries of distance and isolation. We can connect and explore here physically and mentally many aspects of ourselves in a safe shell.
This lineage of bodywork developed by Matteo Tangi, aims to develop your physical and emotional intelligence. By this you connect with others in an authentic, most basic and wonderfully human way!
The only rule is: Do not hurt yourself and anybody else!
More info at www.playfight.org
FOR WHOM
This event is perfect for you, if inexperienced or experienced in Playfight.
The ones who didn't playfight before are at the right place. You don't need to be sporty or experienced in anything. Just come as you are and dive in. The guidance is clear and easy. It will be fun.
The events are also wonderful for the ones already in love with this practice. During the Immersion we will work together to explore our bodies, emotions and boundaries more in depth. We will all together experience the tribal way of bonding that Playfight can offer.
We all know there are many layers and methods of exploration. Therefore, right after the Immersion there will be the Junior Facilitator Training where you can learn the most important elements to explore yourself deeper and also be able to offer safe and empowering Playfight circles yourself!
WHEN
Immersion (max. 30 participants):
Arrival time on Thursday 23/04 before 17.00
Ending on Sunday 26/04 at 16.00
Facilitator Training (max. 12 participants):
Starting on Sunday 26/04 at 19.00
Ending on Wednesday 29/04 at 15.00
Daily schedule:
8.00-9.00 breakfast
9.00-13.00 morning session, with breaks in between
13.00-14.30 lunch
14.30-19.00 afternoon session, with breaks in between
19.00-20.30 dinner
20.30-22.00 evening session
WHERE
Both events are in France, taking place in Camping Le Terroir a beautiful eco-community just 10 minutes from Geneva ans 25 minutes from Annecy..
LANGUAGE
English and translation in german is available (However a minimum understanding English is needed)
PRICES for ACCOMODATION (per person including 4days/3nights + vegan food)
Tent/camper: 90€
Training room: 110€
Shared room: 140€
PRICE FOR PLAYFIGHT:
Supportive: 300€
Regular: 250€
Reduced: 220€
For more information about PRICES and REGISTRATION visit
https://www.playfight.org/fest-fr
THE TRAINER
Matteo Tangi is the initiator of this Lineage of Playfight. His work is rooted in many years of therapeutic work on emotional and relational levels. As well as body and movement level. His work supports individuals to experience themselves undomesticated, free of conditioning and, at the same time, aware and responsible for themselves.
With his guidance Playfight becomes a safe container, where individuals can unfold and explore their limitations, be brave and release old unempowering behaviours. By this, blockages of fear and frustration are transformed into pure energy which is used for daily life.
TESTIMONIAL:
"I do bodywork, dance and martial arts since years but this is something new. Matteo's Playfight is beyond my expectations. In 3 days of Fest I went deep within myself and felt bonded and supported by a group of people I didn't know before. Incredible" Paulo, 38yo, Portugal
"I wish I knew this practice from before. Session after session I could re-learn to set boundaries and to use my feelings! I'm looking forward to do this with my children as soon I'm back home" Ana, 43yo, Germany
"Matteo has a great capacity to listen what the group and each individual's needs. The way he leads is soft and warm but clear and sharp at the same time. I felt safe to explore beyond my comfort zone the whole time". Mario, 56yo, Italy
MORE INFO:
https://www.playfight.org/fest-fr
write us on messenger or via email:
playfight.org@gmail.com